I have built a 'housetruck' – a house on wheels. It serves several purposes: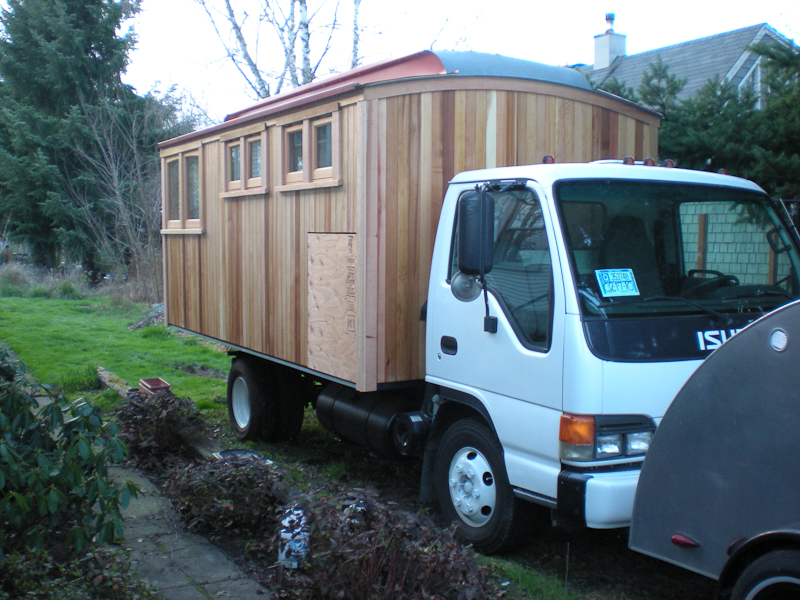 A compact and mobile home in which I can hang out and socialize, cook and eat, and retreat and sleep.
A workspace for my photography and programming projects.
A vehicle to transport me & my belongings to points beyond.
A laboratory for research into alternative and mobile technology.
An expression of art & creativity.
It's been a large project – I spent about a year designing and another year building. Of course, projects like this are never 'done,' so work is ongoing. Here are some general descriptions of my design/build process:
Philosophy: My overall values in designing the housetruck were simplicity, durability, sustainability, and mobility, which combine to liveability. Although I've been inspired by the tiny house movement, the biggest breakthrough was discovering the long tradition of gypsy caravans and British 'living wagons.' You may want to peruse a sketch of the overall purpose, structure, and systems, read a rumination on the values that direct the design, or read the historical background of the architecture.

Dimensions: The house itself (not including the truck cab) is 14' long, 8' wide, and about 7.5' tall. Mounted on the truck, the floor is about 3' from the ground. I'm well under the maximum height for most overpasses and bridges (~13'), but I'll still have to be careful on small country roads and the like. There'll obviously be no parking garages in the housetruck's future.

Truck: The vehicle is an Isuzu NPR. This is a medium-weight commercial truck, often used as a delivery truck with either a box or flatbed on the back. I bought mine as a cab-chassis only, so I could build up on it. The NPR has an excellent reputation, has been made for many years, and is quite common around the world. It has a sturdy little 4-cylinder diesel engine, which can be run on biodiesel or even waste vegetable oil (with some modifications). My truck is a 2001 model, purchased with 91k miles on it and a rebuilt transmission. It's a total blast to drive!

Shell: The core frame is made entirely of 2" square-tube steel, solidly welded together. Attached to that on the outside is exterior-grade plywood, for weather protection and added strength. The exterior siding is cedar. The interior is partly fir beadboard, also sourced locally. The finished floor is cork. The insulation is sheep's wool. The windows are wood and glass. Read more about the theory of the steel frame that is the house's skeleton, as well as the beginning and continuation of the process of building the frame.

Electricity: The electrical system is simple and flexible. The core is a set of batteries, an AC charger, an inverter, a solar charge controller, and flexible thin-film solar panels affixed to the roof. This basic system provides me with enough 12VDC and 120VAC power to run lights, computer, phone, etc. A fuel cell may be in my future.

Water, bathing, etc.: A set of water jugs provides up to 40 gallons of fresh water. A simple brass handpump fetches me water. For bathing, I use the Japanese method (hot water, a bucket, a washcloth, and a small tub) or a portable shower. Depending on where I am, I sometimes assemble a simple composting toilet.

Cooking & food storage: A stand-up counter gives me plenty of space for preparing food, whether for cooking or preservation. Much of the storage space in the housetruck is designed for long-term storage of food & cooking tools. Cooking itself happens outside the housetruck, on a stove powered by either charcoal or propane. A small absorption refrigerator keeps the essentials (dairy, beer) cool.

Heating & cooling: A tiny woodstove provides sufficent heat without noise or dangerous fumes. During hot weather, the many windows open to vent out warm air. Finally, the wheels of the truck propel me to more comfortable climes.

Communications & electronics: While the emphasis is on simplicity, my hacking instinct is strong. The housetruck is a kind of mobile research station, where I can measure and analyze such things as the electrical system, water levels, weather data, and positional information like GPS. These are tied together in a small network of motes – tiny computers that each do a particular job. The data is aggregated and published, when possible, to a website where observers can view a 'dashboard' of the housetruck. Like the electrical system, the communication system is flexible, depending on setting: cellular broadband, opportunistic wifi, SMS messages, even the narrowband of amateur radio packet networks.
Please see the FAQ for common inquiries.
Many of the articles contain images of the housetruck in progress. Even more images are available at my Flickr page. Also see the links at the bottom of this page for other writings about the housetruck and other thoughts on life.